I remember the day our friends came over with their daughter. She must have been somewhere between 1 and 1 1/2 years old. We were still childless then but I was pregnant and  our house was the way a house of a couple would be: Not really childproof yet.
It didn't take long until the girl started taking out all the CD's and DVD's that were neatly organized in the shelf, which to be honest was not a big issue for me. Not yet. But what then happened is still blowing my mind. While the parents watched she started stomping on the CD's and DVD's. Nobody moved a bone until I walked over, lifted her up and calmly said to her that this wouldn't be a good thing to do. I brought her over to her mom, who only smiled, kissed her and let her run straight back to the pile of CD's my husband at that point was trying to just put back into the shelf.
When she arrived at the scene of crime again she continued taking the CD's out of the shelf and stomping on them. While my husband tried to gently stop her (after all you don't want to cross a line and tell your friends child off…) her mom only said to me that life changes once you have children and that nothing is safe from being destroyed anymore.
It was then when I made a decision. It was after this evening that my husband and I made that secret deal: Not in our house!
For us it was clear that just because we were about to become parents, didn't mean that all the nice things had to either disappear for good, put up on higher ground or had to be thrown away after being destroyed. No, we were not willing to re-furbish the house. We were sure that we would find a way, that our children would not be little destroyers and that we would find a way to teach them what was okay to play with and what wasn't.
We're we naive? No, not really.
We just had a plan. And the plan was simple. There were clear rules. Clear guidelines we both stuck to. A 'no' was a 'no', even if that meant that we had to get up and move over to another corner of the room many times, to lift our child up tell him and later her that it was not okay to do that and get back to what we were doing. And it worked.
I'm not saying that in all those years nothing broke. I'm not saying that nothing got stained. But those were accidents. Accidents that would have happened to me too. Not little experiences of a little sweet minion who was trying to a) see how much a thing could take until it breaks and makes a funny sound and b) test the boundaries. Of course we still had our moments when silence suddenly sent shivers down our spines… you just know they did something you don't necessarily agree with. Most of the times though it was just making a huge mess or then putting mom's make-up on.
I'm not saying that we did everything right. I'm not saying that we are the perfect parents and our kids are the perfect children (well… they are in my books…) but when I look around I do think that some parents make some mistakes and their lives could be so much easier if they would just stick to their grounds in certain moments. You are not limiting your child in giving them clear boundaries. You are not clipping their wings if a 'no' is a 'no' and is not turning into a 'maybe',a 'I don't care' or a 'I'm over it, just do what you want as long as you don't bother me anymore'…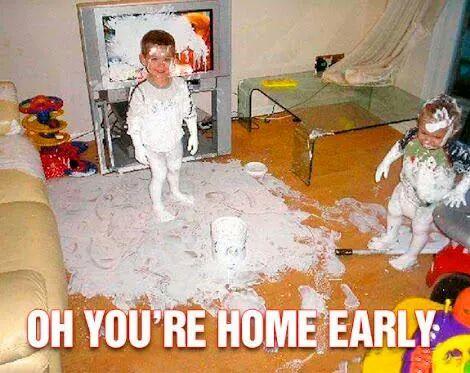 It can be pretty tiring when you have to repeat yourself over and over again and when you have to get your toddler and take him or her away from where you don't want your child to be and play for what feels like a million times. But in the long run it will make things so much easier. If you stick to this at this age they realize pretty soon that you mean what you are saying. They know that you are not just saying a word but that what they do is really something they shouldn't do.
You don't need a lot of words to make it clear. That's something that is done wrong very often as well and I had the tendency to do it too. Long explanations don't really do anything to a little child. All they hear is 'blablablablabla'. It needs to be short and clear. And by saying that I don't mean harsh. Only recently I watched how a mom stopped her toddler from doing something and then started with her monologue which actually lasted for 15 minutes. Yes, I know because I checked the time the moment she started because we had to be somewhere and I wanted to make sure we leave in time. 15 minutes! After 2 minutes the child was somewhere else. Everything she said was a waste of words and time and energy. While she was talking, holding him back from playing you could see how both of them got more and more frustrated. She, because he was obviously not listening. How could he… And he because he wanted to go back to the playground and play again.
I know how easy it is to end up where that mom was that day. As I said, it's one of my weaknesses too. I tend to go into too much details or at least I used to. Know that the kids are older a little more explanation is actually helping them see why you don't want them to do certain things.
So what I actually wanted to say from the very beginning of this post is, that I totally disagree with "Parenting in 8 Words: This is why we can't have nice things". You can. Your kids will know their boundaries and if you don't teach them from the beginning to look after nice things then they will struggle dealing with them when they are older. In a way it's teaching them responsibility. Responsibility to not destroy something. You show them that you trust them. You trust that they listen to you when you tell them something. You trust that they will not destroy things even though they are in their reach. You trust that they can safely put something back to where it belongs if you ask them to.
Those little boundaries giving at an early age will influence your children in a positive way for all their lives. So why are so many parents afraid of teaching this valuable lesson?
Here are the things that I thought made it easier for me:
Be clear. 'No' means 'no'.
Never let your child unattended for too long.
Define official 'messy' areas and let them be messy there.
Let them be messy supervised.
Do things together.
Let them finger paint and never mind them painting themselves.
Choose a drawer or one cupboard in the kitchen which they can access an take stuff out of. Make sure there is only stuff in it that is safe for them to play.
Safety first. Whatever is dangerous is a no go zone.
Never forget that most of the things we see as a mess the kids actually see as a creation. Don't kill that.
If you create a messy area in your home and let them be creative there, it will not bother you as much. Make sure you 'sell' the idea the right way. It's their space and they can be creative there. Maybe you will even leave it for a couple of days or hours. Make sure they understand that in other parts of your home their creations have to be cleaned up.
If they want to clean out drawers in the kitchen that's fine. But stick to the drawer you decided on and which contains the safe things. Hand them bowls and let them be loud for a while. Remember: They are creative.
It's not always easy. Actually it's sometimes really hard to stick to your ground. Especially when you are exhausted and when it gets really messy and really loud. One day though, you will look back and remember that moment as a lot of fun. You created something too. You created a memory.