Outsider… what a brutal word. The definition of this word is probably how we all see it: A person who does not belong to a place, another person, an organization. Definitely something you don't want to be. Every one of us wants to belong. We want to belong to a place, to a person, to something. I think we all are terribly afraid of being labeled an outsider or to feel like one.
I wonder if we all have experienced this feeling of not belonging at a certain point in our lives. I for sure did.
Or did I really? Did I really feel like an outsider? Like someone who doesn't belong? I for sure witnessed someone who must have felt that way and that made me truly understand the meaning of this word.
I remember that girl who moved to our village with her mom when I was about 11 ( a rough guess). So she had to join our class. Now, you need to know that the girl and her mom were what you would call African-American. Obviously their skin color was very different then the one of everyone else. But it was not just that. They came from one of the bigger cities in the UK (I believe), lived in a bigger city in Switzerland and then moved to the tiny mountain village.
Mountain people are really stubborn and most of us not really have an open horizon. Imagine when there was suddenly that pair that definitely stood out. On top of everything the girl was far more physically developed than all of us other girls. So not only did she stand out with her skin color, her experience from traveling and moving, but also from looking like a woman and not like a girl anymore. The boys made their jokes, some girls thought she's "disgusting" and everyone else did not know what to make of them. They were clearly outsiders.
My mom asked me one day to invite her over for a play date with some other "friends" I had back then. She said to me that if I'd ever be in a similar situation I'd be happy to have someone invite me over too. When my friends found out that she would be there too most of them did not show up. It was a good day, we had fun, but it also felt weird. Most of my friends didn't turn up and I felt sad for her, as she must have realized it too, but also annoyed about the fact that I had to be the one to invite her. It was the day I realized what being an outsider really meant.
Up until then I always thought that I was kind of an outsider because of my red hair. But I truly never was. I had my friends. Nobody looked at me in a weird way. I was just teased every now and then. My definition of what an outsider truly is and how it must feel like changed then and with the story of this girl.
I never really felt like a real outsider anymore after this experience. Sometimes I felt pushed to the outside, in some cases I "moved" to the outside myself.
Like when I had a boyfriend in South America and was too stubborn to learn the language of the country he lived in. Because he was a Swiss Expat we always spoke Swiss German and because he went to a German school I always felt like I could easily communicate with his friends. But I was wrong. I learned then already and have witnessed it after our move to Down Under again first hand, that kids that grow up in another land not necessarily speak their parents language when with their friends. So on the occasions we went out with a group of his friends and not just one or two they all spoke their language and I felt like an outsider. But it was what I call home made.
Being a real outsider is never home made. It's not a choice we make. It's a choice and a decision that is made by the people, by the society that surrounds us.
Over the last couple of years, after moving to Australia and deciding to home-school our kids, there were moments in which I felt pushed to that line between being comfortable and feeling like an outsider. Or maybe more like being left out. None of our family was an outsider. Yet again, we were accepted in the surrounding we lived in. We were happy. There were just moments and people that questioned our decision. So again, the feeling of being an outsider was home made and honestly faded pretty quickly.
To go back to the beginning of this post: I wonder if we all have experienced this feeling of not belonging. I think we all did at one stage. But: I also wonder how many of you have felt like an outsider. And I wonder how many actually were treated like one. What do you think? Have you ever really been an outsider?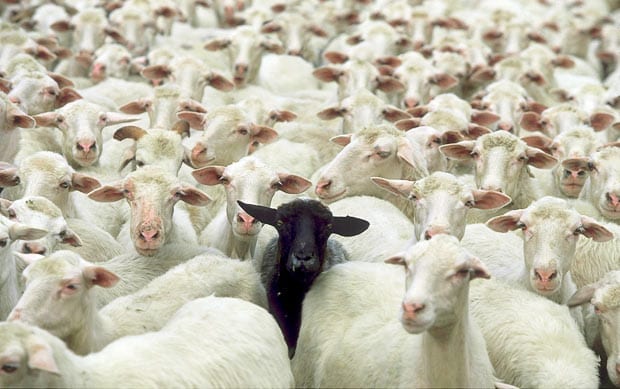 Inspired by the Daily Post Daily Prompt – The Outsiders