A nomination for a blogger award is probably one of the best ways to start into a new week. This time I got nominated for the Blogger Recognition Award by a brand new member of the blogging world: Omctips. Thank you so very much for this little token of appreciation!
It's funny that I got up today thinking a lot about reflecting. It's the time of the year my babies have their birthdays and, oh my, they ain't no babies no more… So this time of the year always makes me reflect on the past, where we are now, where we and especially the kids are heading in the future. This morning I realized that I did not take my time to reflect lately and that I miss it.
I guess this nomination popped up as another little hint. The recognition award is making you look back in a away, I believe. Look back to where you came from. I take it as a hint that I should take "my time off" to get a moment I can sit there in peace and quietness and think back, reflect on the now and dream about the future. Before I will do that though let me finish this post.
The rules are not complicated:
Write a post to show your award.
Thank the person that nominated you
Briefly describe your journey as a blogger
Give advise to other bloggers
Nominated deserving ones
My journey as a blogger began in September 2014. Actually it started way earlier. Years earlier. The idea of starting blogging slowly developed in my mind, trying to get me to finally start writing. But then there was this voice, telling me that I have no niche. That I need a niche, that I need to research the topics I'd write about and so on.
So I didn't start. I pushed it away from me, tried to forget about the idea. Until September 2014. When I decided "screw it, I do it anyway!"
It was then when I decided that I'm enough. My thoughts are enough. I don't need a niche. I don't need to research if I only want to share a thought. I can if I want to but I don't have to. I decided to just write, be me, share my thoughts, my experience. It honestly took me by surprise how fast this blog grew and how much it evolved. And it's not done yet, it still grows and it will always evolve.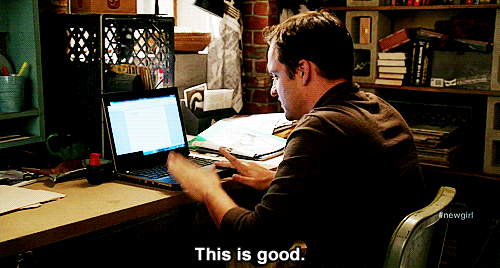 What I learned over the short time blogging is that you should always stick to who you are. It doesn't mean that you have to reveal everything about you. It means that you write in your style, stick to your opinion, share what truly moves you. Write about what you like to write about. When we allow others to push us into a corner, into a niche we are not comfortable with, even if we put that pressure on ourselves, we limit our abilities. In some way it's like a good dish. If you are not comfortable cooking a certain cuisine it will show. Same in writing. Just because it's booming don't start writing about a certain topic you have nothing really to say about. Maybe you manage to get a couple of posts out maybe they are even successful. But over time it will show. Over time it will get harder and harder to write about it.
Writing should always be like a flow. I know from experience that writing a novel is not always like that. Sometimes the words just don't find their way through your fingers and the keyboard on the screen. Although it can be tricky at time with blogging too you should never get to the point you actually feel like you have to write a post. You should never get to the point you hate sitting down and type. You should never write just for the sake of putting something out there.
I strongly believe that whatever you put out there should have a message. Just like with a meal you can taste how much love went into a piece. If you manage to engage with what you write about your readers will feel it. And it will make it easier for them to engage with your post, with your message and with you as well. You put love into it, it will taste better. If you don't, well…
Over the short time I'm blogging now I learned how inspiring and supporting this community is. Every like, every follow, every comment lifts you up. But this is not only about taking, this is about giving too. And by giving I don't only mean the posts you write. This is not a one-way street. You need to put yourself out there too, if you get a visit, head out there too and visit their blog. If someone comments, answer. If you read a post, leave a comment. Go out there look for blogs that might be of interest for you. Engage, network, support. If you are moved by someone's thought, let them know. If someone's post makes a difference in your life, tell them. If don't agree, nicely ask why they feel that way. Be kind, be supportive. In the end it will always be your decision if you like to like, comment, follow and revisit a blog or not.
You will find that you will build friendships through blogging. With people you would most probably have never met. People you don't know personally but still feel so deeply connected to. It's a good feeling, you know. I'm not an introvert, so I do pretty well with people and connections in my real life. But sometimes it's good to know that there are a couple of people spread out over this planet that only actually know my thoughts and like me for that.
There are so many bloggers I think deserve this award. If you have time just check out all the bloggers that have ever commented on my posts or head over to my Picks Of The Week and check all of them out, all the way back to 2014. There is simply no way I can cover all of them in a list that would not go on for a very long time.
So I take the liberty to not create a list. Instead let's play a little Blogger Meet & Greet game:
I'd like to invite you all to comment here and leave your link. In doing so you not only deserve a nomination for this award but you also show me that you read my post.
To pay it forward please check the bloggers out that have commented on this post as well as the ones that have liked it. If you leave one comment on one of their blogs you have already reached out to a new connection and who knows what that might bring you?
Once you've left a comment consider yourself nominated if you are happy to accept the nomination and write a post about it, following the above mentioned award rules.
How does that sound? Now let's party…