Seems to be the time for awards again. Not sure why but I got nominated again for a Liebster Award and I'm so totally thrilled! Thank you so much, Niki, for thinking of me! You should definitely check her blog out. I love what she writes about and the way she does it.
The rules:
Thank the blogger that nominated you. Done

Write 11 random facts about yourself. Alright then…
Answer the 11 questions asked by the blogger that nominated you. Will do…
Nominate 5 to 11 other bloggers and let them know they've been nominated. Wait for it, wait for it…

Come up with 11 questions for the bloggers you're nominating. Okay

Okay, let's give those random facts a go:
I'm still waiting to do a Salsa course with my lovely husband but he seems to escape that one on a regular base…
I can't manage to fold a bed sheet properly. You know the ones that fit? The elastic corner ones?
I realized that most of what I had to learn in school is of no use today, but let's be honest: Many, many things we will never really use in our life unless we take part in a quiz show…
I actually ones thought about becoming a physio and start working for the ATP and all the big tournaments… call me groupie…
I overcame the groupie phase…
I still love to give a massage…
And I love to get a massage… it's been too long (hint hint…)
I'm blank…
I'm so boring… I can't even come up with 11 random facts about myself…
Can we just pretend I came up with 11 random facts?
You all know I'm a red head, right???
This should be easier…
Here are Niki's questions:
What state/country did you grow up in? Was it stereotypical?
Grew up in the Canton of Graubünden, where mountains and ibexes rule… where Heidi and Peter took the goats to the higher grounds and Alpöhi took care of them. Stereotypes??? What??? Where??? No… 😉
What is your favorite movie and why?
Same answer over and over again, right? Well, it's still "Inside Out" but I have to say I do like "Now you see me" too…
Name 3 foods you detest and the reasoning's behind it
I do not like offal…
What is the most recent goal you have accomplished? How long did it take?
I just set another goal as the last one took too long to accomplish because I got lazy. So working on that now and as soon as it's done I will let you know 😉
What do you want to be when you grow up? How many times has it changed over the years?
Wise. I'd like to be wise…
What is your favorite Christmas tradition?
Starting to set up the tree on the December 1st and putting up one ornament per child each day from then onward and watch the tree slowly shape into the beautiful decorated work of art it will eventually be…
What does your typical day look like?
I actually just realized that there is no typical day… I would say making breakfast for everyone and then take care of my chores while the kids do school. Then taking them out to do something. Cooking, cleaning, having fun with the kids, blogging and so on…
Have you read any good books lately?
I have two books sitting there waiting for me to read them. I will let you know how good they are once I'm done but it can take a while… I usually read when we are away, on a trip or so. I rarely read at home (besides blog posts). Hey, that counts as a random fact, right???
What's your idea of exercise?
I'm actually sitting here in my gear ready to do my workout. Exercise is everything that makes you move more than you would when getting from the sofa to the bathroom and back… but this is what I will do in a couple of minutes, join in:
What is your favorite beverage, alcoholic or otherwise?
Water and a lemon veg. Tea, coffee and bubbles!


But honestly, I'm totally happy with white wine too. And red… wine… wine in general is good…

What was your best/favorite subject in grade school or college? Are you still good at it or still enjoy it?
I liked learning languages. Still love different languages and I wish I would have learned more of them when I was younger. Still time…
And I will do it again, I will be naughty again and not nominate any of you for this award.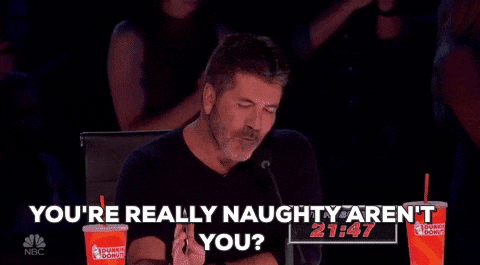 Today, yes, totally.
And you know why??? Because it's my blog's anniversary week. Yes, it is! A Momma's View is about to turn 2. And that's why I'd like to invite you all to party with me!
Come over here and follow the prompts, please… Take advantage and network. Meet new bloggers, share your link, connect. It's what blogging is all about, right? Let's do it 🙂