As I've mentioned I spent most of Sunday inside, watching a big group of kids on stage. Witnessing my daughter and everyone else rehearse their upcoming show was simply amazing. Of course I'm proud as a mother to see how much her dancing has improved. Of course I'm happy to see that she is doing something she so clearly loves. But watching her was about so much more. It was about commitment.
Some time ago I had this conversation with one of the dance moms (who used to be a dad… see here) about all the effort the kids put into their dancing. We both agreed on one thing: How fantastic it is to see their commitment.
So many hours go into dancing if they want to take it serious (Vic would probably agree with me…). By serious I do not mean serious in regards to a career but in regards to wanting to do it right. They focus, they listen, they practice, they learn. And then they come back and do it all over again. For what? In my daughter's case just for this one show in the last term of the year. It's all about this show. It's about practicing the choreography and the words (for those who do the singing and dancing bit) and then dressing up in those amazing costumes to then finally stand on this massive stage in front of an audience. Nobody wants to be the one who forgets the steps, the moves, the words or to smile.
I have witnessed the same commitment in both of my children. For everything they do to be honest. Martial art, soccer and dancing. They give their all. They put everything in it. They work hard on achieving their goals and to put their best out there.
Same with my son and his martial art training. No matter how tired he was, he always went to training. I had to stop him on occasions because he was too sick. In his mind though, he was well enough. He would always be well enough. I think he would still head there if you would cut off one of his legs (and there's a lot of kicking going on there…).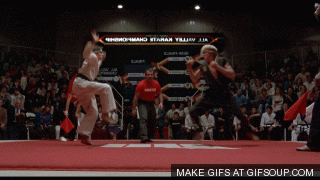 There is just no way they would wan to miss out on any of it.
How often have I thought about just staying home, keeping them inside instead of heading out into the cold and pouring rain for soccer training. When I mentioned the option to my daughter she always gave me this "are you nuts" look. She would have never wanted to miss out on a single training session. Her teammates are not very different. They all turn up. Not because they have to but because they want to and because training is always on as the coach is committed too.
You set an example as an adult, you know. Not just as parents. Teachers, coaches, instructors, everyone (right, Eli?). We all set examples for your children. If they see us committed they will learn from it. They will know what it means to "sign up" for something and stick to it.
As a parent I love seeing this. I love the fact that they have found something that actually gets them to the point where they want to put their all into it. It's not a given.
I have watched so many children and their parents over the years. You can tell if a child really is into something of if they are pushed into it. Kids who have been pushed to do something that was not theirs and therefor never truly committed themselves. The parents of course realize at one point or the other that the children are not as committed as they would want them to be. This of course leads the parents to blame their kids for not appreciating all the money and effort they put into offering them the possibility to do what ever it is. It's where the vicious cycle begins and mostly never ends.
Commitment is not just an empty word. It's something that can have a huge impact on your life. I believe that in order to achieve something you need to truly commit. I do believe though that you can only truly commit yourself to something you can put your heart in. If you find the things you want to do wholeheartedly it's truly inspirational.