Isn't that the truth! I hope you will get up with a positive thought on your Monday morning, making you ready to tackle the new week with all its little challenges. There is so much good out there, so focus on it! Let's do it! Let's kick off the week on a positive note yet again!
It's easy:
Mention something that you consider being good in the comments
Or write a post about it on your blog (please don't forget the pingback if you do so I don't miss out and also share the link to it in the comments below). Something good that happened to you recently, or something good you will experience in a little while, or something good you know will happen soon. Something that makes you feel good.

Share this post and invite your followers as well.
Before we start though, how about a little bit of hugging? Nobody around to hug? How about you hug yourself? That's totally fine! Hugging is awesome! Even if you hug yourself! And here is a virtual hug from my side for you. Wait, I'm coming…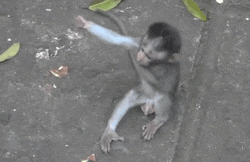 Want another one? Sure thing! Here we go! I'm not letting go until you do, okay… Just keep hugging… all good… and another one… enough? No? Okay, let's do another round…
Don't worry, you can keep hugging yourself while I continue here…
Here's what I'd like to share with you today:
"It's Halloween!!! Do I need to say more? The house is decorated and I'm getting everything ready for our little party tonight. Can't wait to see everyone and wondering what they will be dressed up as. I hope the neighbors will celebrate it too, so that the kids will have a great little round of trick or treating and some other kids will come by too. It was rather quiet in our old neighborhood… Tomorrow is a day off as it's Cup Day here. Big horse race… It stops the city! We might watch it on TV, just head out for another hike or if the weather is really bad have a lazy day at home, playing some games before everything goes back to normal on Wednesday."