How about that for a motto? I hope you will get up with a positive thought on your Monday morning, making you ready to tackle the new week with all its little challenges. There is so much good out there, so focus on it! Let's do it! Let's kick off the week on a positive note yet again!
It's easy:
Mention something that you consider being good in the comments
Or write a post about it on your blog (please don't forget the pingback if you do so I don't miss out and also share the link to it in the comments below). Something good that happened to you recently, or something good you will experience in a little while, or something good you know will happen soon. Something that makes you feel good.

Share this post and invite your followers as well.
Before we start though, how about a little bit of dancing? Nobody around to dance with? Doesn't matter! Sometimes it's even more fun to dance by yourself, especially to a great tune. But I will let you pick your music.
Just a little inspiration… right… how about a little bit of Greece, a little bit of ABBA and a little bit of dancing…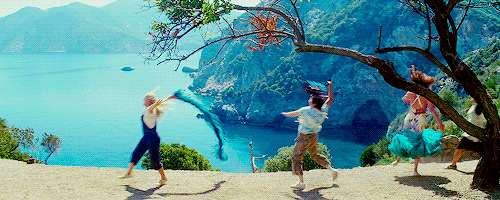 It's okay, keep dancing… we have plenty of time. Go ahead, dance some more…
And when you are done, here is what I like to share with you today:
"You might have guessed it. We watched Mamma Mia yesterday with the family. I just love the movie and I'm a little bit sad that I have never seen the musical. But hey, the movie is fantastic too. It's one of those feel good stories, right? And the music… Well, the music is just simply fantastic. Isn't ABBA great? I mean, look at what they've done. I remember being a little girl and watching my mom dance to the ABBA tunes. And here I am, doing the same with my little girl and she loves the music. That's leaving something behind. Being there, seeing her face while watching the movie, seeing her enjoy the music just made me feel so incredibly good. It gave me the kind of energy that will carry me through everything over the next couple of days. One of the memories that will put a smile on my face for a long time…"
This is one of my favorite ABBA songs (forgive me to share the Mamma Mia clip with you instead of the original ABBA one but it fits this post better) and who wouldn't want friends like these?