We just returned from another hike and spent hours outside. Everyone is happy and slightly tired at the moment, especially the dogs. They haven't moved since we got home, snoring in their beds. The kids are playing some kind of game on the xbox and I just don't care. Because we've been outside. We've been out in nature. We've been active and out in the sun, in the fresh air. We ticked all the boxes and now we are just tired.
There are days I don't feel comfortable letting them watch TV or play on a device as I feel they have not been outside enough. They are always active. They do some kind of activity every day. So it's not that much about moving. It's more about spending time outside.
I grew up in a mountain village. In a different time. There were no devices when I was a child. There were card and board-games, books and maybe the TV. But there was not much on on TV and video tapes or DVD's only popped up when I was older. It was all about playing outside, catching up with friends, heading to their homes to pick them up, heading to our schools to play on the playgrounds there or the playground in the middle of the village. It was about hiking, mountain biking or horseback riding in summer or skiing or ice skating in winter. All outside of course…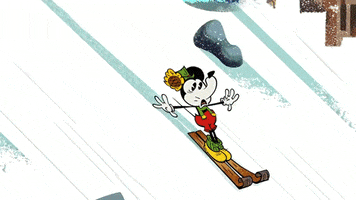 A lot of the time it was just us children being out there in groups or with one or two friends, often without any supervision but just a time we knew we would have to be at home. So while I'm sitting here I thought of a post I wrote about the recommended amount of activity a child should partake in and I decided to share  it as a Blast Of The Past.
I would love to hear your take on it. How much do you think is enough and how do you make sure your children and you as well get enough activity into your day?
Times are different. We all know that. When I was a child, watching TV was not half as entertaining as it is today. And the reason was simple: There were only 3 channels and there was nothing on that was fun to watch for a child.
They say that sitting is the new smoking. I totally see why. We spend way too much time sitting around. Our kids spend too much time sitting around, if we are not constantly telling them to go outside or do something different than watching TV or spending time on any device. And it seems to be a common issue. Whenever I talk to a mom the point of getting the kids outside to play always comes up. And the little sentence "it used to be different when we were kids" comes up too.
Was it really different, though? When we were kids, were we easier to get outside to play? Or did our parents struggle with it too?
My first thought is, that it was different, as I feel I spent heaps and heaps of time outside. Either playing in my parents garden, going on hikes or bike rides, walking to school, catching up with friends after school. Walking to their house. On the back of my horse. I remember as well, that my mom often told me to stop reading the book or watching TV and to stop playing inside and rather go outside to play.
Things were different back then, as we all walked to school or rode the bike. So there was your outside time already. We walked to our friends place, we caught up after school on the little street in front of our house or the house of our friends. A couple of days ago a friend of mine from Switzerland asked me why all the kids get dropped off and picked up at or from school here. I honestly don't really know. I guess it's a safety thing and I guess it also has to do with the fact, that people live further away from the school kids go to. Having said that thought, there were some kids in my class back then, who lived all the way back in the village and it was at least a 30min bike ride for them each way.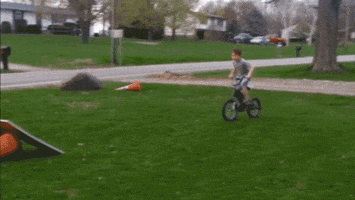 So what changed? I guess life in general, the fact that everyone got busier for whatever reason. The fact that parents now spend all day at work, that kids spent all day in school. Maybe even that the responsibility of making sure the kids have enough outside time and are active enough is no longer only the parents responsibility.
What changed is, that there are guidelines nowadays. Guidelines about how much time children should spent being active. The recommendation for physical activity for kids the age of mine in Australia is at least 60min a day. One hour of running and moving and using those legs and muscles per day is considered enough. I was trying to figure out if they also recommend that this time is spent outside. I guess it's the case. So here is what I found:
Physical Activity

For health benefits, children aged 5–12 years should accumulate at least 60 minutes of moderate to vigorous intensity physical activity every day.
Children's physical activity should include a variety of aerobic activities, including some vigorous intensity activity.
On at least three days per week, children should engage in activities that strengthen muscle and bone.
To achieve additional health benefits, children should engage in more activity – up to several hours per day.

Sedentary Behaviour

To reduce health risks, children aged 5-12 years should minimise the time they spend being sedentary every day. To achieve this:

Limit use of electronic media for entertainment (e.g. television, seated electronic games and computer use) to no more than two hours a day – lower levels are associated with reduced health risks.
Break up long periods of sitting as often as possible.
I look at that and think how much sense it makes Yet we apparently need this guideline nowadays. It makes sense that the kids eat healthy, eat vegetables and fruits. Yet we need recommendations.
Are we really moving that far away from using our senses, remembering how we grew up? Honestly, as much as my mom sometimes had to push us to stop reading or playing inside, the moment we were outside, we had the best time. Going on hikes was the greatest thing ever. There was always something to discover and we created our little adventures. We created the stories, the games, the adventures. Somehow it feels like everything is ready-made today. Everything is at our doorsteps and in a way venturing out is no longer necessary.
I guess that is, what has changed.
Looking at those recommendations and really thinking about it, I guess we are doing pretty okay. The kids are outside a lot, they get their 60min at least every day and still I would love for it to be more. I wonder if 60min are enough. I know it's a minimum. Still… Defining this minimum has two sides to it. In a way it does good as it gives people that guideline. In a way it doesn't as it might be easy to just stick to the 60min a day, rather than trying to do more.
I believe that 60min is not enough. But I do understand that it's hard in some cases to get more than 60min in.
What is your take on it? Do you think 60min is enough? Do you struggle to motivate your kids to be active or to go outside? Do you think it was easier when you were a child? Did you spend more time outside and active than 60min?