There are many things kids need to learn. Have to learn. As parents we need to support our children in that process and help them wherever we can. Sometimes we need to be strict, sometimes we can be a bit slack. What it needs though is a clear line, even if we make exceptions from time to time.
Watching our children learn is fun, sometimes it's hard. I find it wonderful to watch with how much innocence they discover this world. It's beautiful to see the wonder in their eyes. It's amazing to see them see the magic of everything, something we might have lost over time. In a way they not only open their eyes to the many wonders out there but ours too.
When children learn they learn out of an instinct. Sometimes it's easier for them, sometimes it's not. And often it can create frustration and impatience in us. Those of us who have kids know how often we repeat ourselves, not only when they are little but also when they are teenagers. Sometimes it seems as if they ignore us, as if they just don't get it. And it can make you feel angry.
Bottom line though is that most of the time it's not done out of a mean thought. Sometimes they simply don't get it, they don't understand why they cannot or should do something. Because for them, in their innocent world it simply doesn't make sense. So we need to find a way for them to see the "why". The intense reactions we get from them might throw us off and often we struggle understanding that it's their frustration with the situation, with not understanding the "why" that leads them to overreact. It's the lack of control over their feelings too. Sometimes of course it's just plain simple a tantrum. But hey, that's a lesson to learn and address too, right?!
I find it interesting (and I'm guilty of this too) how often we tell our children what they shouldn't do instead of letting them know what they should do. I believe it is a crucial point and maybe this behavior is key point to seeing a glass half full instead of half empty (or the other way around).
My children are at an age where tantrums are no longer an issue. Actually, we never encountered tantrums. My children never threw themselves on the floor with a red face, screaming like crazy with fists and feet punching and kicking the floor. I was never in the situation and really don't know how it feels like to have to deal with it. But I can see how frustrating even aggravating it must be to watch your child have a meltdown in public.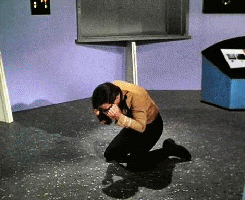 I can't tell you why my children never did it. There is no recipe to raising children, no manual. But I do believe in explaining things to kids. From a very young age forward. I think it's important to let them know why they should or shouldn't do certain things. And when we explain it to them we need to make sure it's done in a way a child can actually process it. I'm all for talking to kids the way I talk to adults but that means cutting out baby talk. It means addressing their issues, their problems, their fears. It's about taking them seriously. It's also about making sure they know that "no" is a thing and why it is a thing.
Parenting and dealing with situations that seem so highly irrational to us can be exhausting. Especially when they are combined with a lack of sleep we get to the point where we overreact. So we tell our children off more intensely than what the situation would have needed. Just like our children we are not always in control of our feelings. And sometimes that means that a reaction is over the top. While we decide to cut them some slack in some moments we also go over the top in others. Maybe that's the balance of parenting?
Sometimes it's better to not fight battles but take an easy way out. Find a way around the conflict by removing something that might cause a meltdown from the scene. Like when you have a present ready for your child but it can't have it at the very moment. Why would you leave it in plain sight, causing friction between you and your child because the child would so love to have it but can't just yet and doesn't really understand why and you try to explain over an over that a no is a no. Of course they need to learn it. Of course they need to learn that a no is a no and that if you say it's not time to get something it's not time for it. But why battle a war if you can simply remove the issue? Like with this example just put the gift somewhere the child can't see it constantly.
Parenting is a constant walk on a very fine line between doing everything right and feeling like we do everything wrong. It's about being strict but also supportive. It's about pushing where it's needed and lifting up, slowing down, letting be in other moments. It's about making sure that they learn it finally but also understand why it might take a bit longer for them to understand what you expect from them and why.
What we should never forget is that we need to cut them some slack but also cut ourselves some slack. We need to breathe too, we need to slow down, recharge, reassess from time to time. We need that supportive nod of someone else. We need to encouragement of others. We need the smiles of our children, the hugs and kisses.
In most cases our children don't want to battle us. They want guidance. They want support and love. They want to learn. Sometimes we find ourselves in that thinking pattern that we need to "battle" them. Just like a lawyer battles a prosecutor. But it's not what it's about. Our children are the most important people in our life. Our "parenting job" is the most important job we've ever had and will ever take on. If we screw that one up, we really screwed up. No wonder we feel under pressure.
Now, if we take that breath, when we remove ourselves from a situation for a brief moment, we can see clearer. We might realize that standing our ground is still a good idea but that it can also be done by making one tiny step to the left or right and in doing so opening up an entirely new perspective.
Cut your child some slack. Cut yourself some slack.