It's a special week, this new wee. The week leading up to Christmas. A time where people should be happy and "light". But for some it's a difficult time. Some feel lonely, some struggle, some feel dark or heavy. I think it can be especially hard at times like this as all you see is people who seem to be happy. Sometimes though it's all a facade. In any case: Never forget that you are in charge of your happiness. You are in charge of how the day will feel to you when you go to bed. You are in charge of focusing on the good thing they day brought you rather then the bad before you fall asleep. And you are the one who decides how you will approach the new day.
Make it count. Make it a good one.
Let's put some effort into creating a good week and kick start it with a positive thought on your Monday morning. Let's do it! Let's kick off the week on a positive note!
It's easy:
Mention something that you consider being good in the comments
Or write a post about it on your blog (please don't forget the pingback if you do so I don't miss out and also share the link to it in the comments below). Something good that happened to you recently, or something good you will experience in a little while, or something good you know will happen soon. Something that makes you feel good.

Share this post and invite your followers as well.
Before I share my good thing of the day with you I would say "let's giggle". I know you should not make fun of others, especially animals, but this is just so cute… and it makes me giggle…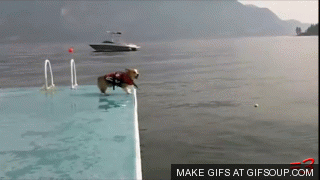 Now, I'm not asking you to head out there and do a belly flop into some kind of water in your area. For most of you it would mean to be icy cold… but it makes me giggle and I invite you to have a giggle too… 😉
And here is what I'd like to share with you all today:
"Today we spontaneously went to the beach. The first time this summer. The weather has just not been inviting enough for us to head to one of my favorite places ever. It was a marvelous day and I'm so glad we did it. The water was nice and war and just so beautiful. I'm tired tonight but happy and ready to face the world again tomorrow. For you all up north: Stay warm!"