It's been a warm day today. A beautiful warm day. We've been over to our friends for the birthday party of their kids. When we came back home the neighbors kids were outside, having a water fight. Our daughter immediately joined them. While I watched them I couldn't stop thinking about how different the 23rd of December is now than back when I grew up. A water fight on the 23rd of December would have meant hypothermia… here it's a welcomed cooling off from a hot day. It's what Christmas has turned into for me. Dealing with the heat rather than the cold. Heading to the beach rather than snow shoveling.
I'm not complaining. Not at all. It's just sometimes mind blowing how much it all has changed.
Christmas was always also about silence. Sort of. It used to be busy in the town I grew up and still, with all the decorations everywhere it had a very calming vibe to it. "Holy night, silent night" as they sing. It's what Christmas is to me. No matter the rush that might be surrounding you. Silence can come from within. So even if it's busy out there, even if it is light till 10pm and even if the kids are running around and giggling and screaming while having their water fight, silence still is a big part of the lead up to Christmas. And while I keep thinking about the difference between the silent night in the snow and the silent night in summer, I'd like to share this Blast From The Past with you about the same subject…
Silent night. It's one of the songs that comes to mind now, right? Well, how about silence? Do you experience it?
It's something that I often think of when thinking back to how Christmas used to be in Switzerland. When I think of the nights fresh snow was falling. Because snow absorbs sound it really gets more quiet. But it's more than that. It's the way snow falls as well. If it's not wet snow the snowflakes float to the ground rather than falling, don't think so? Everything seems to be almost put into a slow motion mode.
And I believe that it effects you too.
I remember how I could sit in the living room and gaze out the window, watching it snow. Even thinking of it makes me relax right now. And giggle.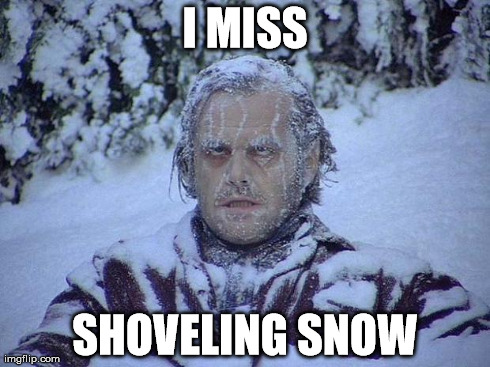 Giggle because I just started thinking about the flip side of it. The shoveling (nope, I don't miss it at all…) and the scratching off snow and ice from your car and so on. I was tempted to say that you would never get worked up on one of those days, when light snow falls. But I had to reconsider.
You probably would if you would know that it would most probably not end soon and that hours of shoveling would lay ahead of you.
It's easy for me to dream of it now. It's a beautiful hot day here and the kids just had a water hose fight in the backyard after we came back from a little walk and a frozen yogurt treat.
I can't help trying to find the link between watching snow fall and what it does to me and sitting on the beach watching the waves. There is one. I know it. At least for me. Both relaxes me in a special way. Maybe both of them have this steady movement, that might even feel hypnotizing. Not sure. But it definitely slows me down. There's no such thing like silence, though, with the waves. You definitely hear them. And yet it's a soothing sound.
Maybe this is what I usually crave this time of the year. The soothing and relaxing sound, the possibility to breathe and slow down. And maybe that's why I can connect both of them.