Hey you all, by now you have made it to 2017 too. Here is to a new year, a new month, a new week and a new day. When I started this little blog event last year I wanted to simply kick off the week on a positive note. I thought it would be fun but realized pretty soon that it actually was much more. It gave me personally many smiles and I often felt energized by your positive stories you shared. It would be great if you would keep sharing them with me and maybe also invite your followers to participate in this challenge.
Let's put some effort into creating a good week and kick start it with a positive thought on your Monday morning. Let's do it! Let's kick off the week on a positive note!
It's easy:
Mention something that you consider being good in the comments
Or write a post about it on your blog (please don't forget the pingback if you do so I don't miss out and also share the link to it in the comments below). Something good that happened to you recently, or something good you will experience in a little while, or something good you know will happen soon. Something that makes you feel good.

Share this post and invite your followers as well.
Before I share my good thing of the day with you how about throwing our hands up in the air and just celebrate a little bit?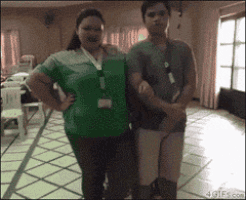 And do it again… and again… and have fun. Have heaps of fun 🙂 Don't feel shy, just go for another round… and another one… and when you are ready, here is what I would like to share with you this week:
"2016 is over and honestly I'm pretty happy about it. It's been a year of many challenges. Of course I know that just because the year is over it doesn't mean that there won't be any challenges ahead of me. But in a way I can close the lid on the "2016 book of my life" and move on. We started the new year with a day out with our friends. It was a lovely day and heaps of fun. The kids had fun, the adults had nice conversations and some giggles and I honestly felt energized on the way back home. It's good to head out. It's good to be outside and recharge. Not matter what you do…"