Well, I let you in on a secret: It's actually already January 3rd here but I guess I'm okay if I claim it's the 2nd. For one because it's the title Cee gives this weeks Share Your World Challenge and second for some of you it is actually only the 2nd now.
It's something that I find still funny, that writing to you from the future thing… I can lose myself in thinking about it actually. Isn't it interesting how you can be basically one day behind and yet we live in the same exact moment, watching the world turn and go through the same things? And yet you are kind of in my past as you are a day behind and I'm in your future? Am I losing you yet? I hope not. Just think about it… It shows how relative time actually is…
Anyway, Cee had some pretty cool questions again for this week. If you have not yet checked out her challenge, please head over here to do so. So let's get to the questions.
Would you prefer to receive a unicycle, bicycle, tricycle or motorcycle?
Well… actually I would be happy with a good bicycle. Ours got stolen twice and then we got them replaced another time and then never used them and decided to sell them before we had to move them again. I often think it would be nice to use a bicycle but then I have to say I would prefer to use it out in the country mountain biking rather than here so close to the city.
There are some really nice bike tracks along the ocean but you have to head down busy roads and drivers and cyclist just don't seem to get along here…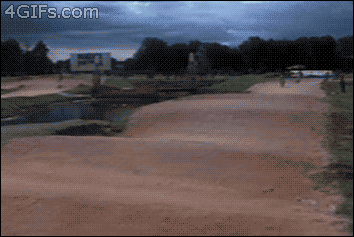 I think I couldn't handle a unicycle… and the tricycle reminds me of what I used to use for the kids. And the motorbike? Well, that is another story. Let's just say it's not a good feeling if you get a call and the police informs you that your husband had a motorbike accident… all is fine but I can't shake the sinking feeling I had in those split of a seconds until they told me that he is still alive and kicking (well, more or less…)
What is one thing you'd like to accomplish this year?
I want to make a business I take on work. I want to make it big. And besides that I'd like to grow my blog. But most of all I'd like to discover the world with my children, starting in our area, our country. I want them to see the beauty this planet has to offer. I want to get them outside more, make then aware. Aware of nature, of the different colors the sky can have, the sunset. I want to make them aware of people, their different sides, their flaws, their strength. I want them to appreciate kindness without becoming vulnerable. I want to teach them what right friends are made of and what the make of toxic people is. I want them to give everyone a chance but to draw a line too and stick to it. I want to be there for them and let them know how much I love them and how proud they make me.
What was one of the highlights of 2016 for you?
As rough as 2016 was there were some very important highlights. First of all finally having found back to the area of work I used to do and having enjoyed it massively. Then having been able to tell my Dad how much I love him and knowing that he loves me too. Catching up with friends I haven't seen for many years. Knowing that although many things change a true friendship will always remain the same. It will always be made of the basic ingredients that started it off in the beginning and the ones it's built on. Learning that when you least expect it they will show up and will be there for you, carrying you through difficult moments. Definitely highlights, definitely life lessons I learned and I would not want to miss. And of course all the many moments of laughter we all had.
Would you prefer to fly a kite or fly in a hot air balloon?
I'm a bit of a chicken when it comes to things like this. Funny enough I just had a short conversation about hot air balloons with Mary from Trees Of Transition. So if I had to decide right now I would probably choose a kite but that's right now and it might change. Why? I have no clue… something about a balloon up in the air powered by an open flame in a straw basket… and a story my Dad once told me…
Optional Bonus question:  What are you grateful for from last week, and what are you looking forward to in the week coming up?
Last week was filled with catch ups with friends and play dates for the kids. Things like this always bring along lots of laughter and great conversations. I'm now looking forward to starting work and being busy with it for the rest of the month, knowing that I will see plenty of people I used to work with over the next 3 – 4 weeks. Although it's all happening now and everything has changed it's always kind of a walk down memory lane and revisiting things we experienced by telling stories about jobs we've done together. It will be a time filled with old but also new connections, interactions and exchanges.