Today is my Tell Me Something Good Anniversary Monday. This challenge is running for an entire year now and I really like the fact that you guys join in so regularly. So let's make this a special one and please invite people to join in as well by sharing this post. Let's make it big!
Let's do this. Let's kick off this week with a positive thought. By sharing something good, something that made you happy or you are looking forward to .
It's easy:
Mention something that you consider being good in the comments
Or write a post about it on your blog (please don't forget the pingback if you do so I don't miss out and also share the link to it in the comments below). Something good that happened to you recently, or something good you will experience in a little while, or something good you know will happen soon. Something that makes you feel good.

Share this post and invite your followers as well.
Now, I just want you to be happy today. Be happy and celebrate this by either a happy dance, a bit of a shimmy, some happy jumping around or giggles. What ever you feel like. Maybe even with a heart shaped pizza?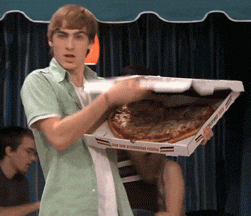 And when you are done here is what I'd like to share with you today:
"I'm happy that this little challenge is running for a year already and reading all your happy things on such a regular basis. It gives me a lot, you know. It puts many smiles on my face every Monday and it makes me realize that often, it's the little things that make us happy."