You might wonder what this image has to do with my Tell Me Something good post. Well, I'll be honest with you: It has been one of those days… As much as I wanted to see the good in it I feel like I want to do what the ostrich in the image does right now… I will tell you about it in a little bit. But let me tell you one thing: It could be so much worse! And that's why this day is still a good day 😉
So let's do this. Let's kick off this week with a positive thought. By sharing something good, something that made you happy or you are looking forward to .
It's easy:
Mention something that you consider being good in the comments
Or write a post about it on your blog (please don't forget the pingback if you do so I don't miss out and also share the link to it in the comments below). Something good that happened to you recently, or something good you will experience in a little while, or something good you know will happen soon. Something that makes you feel good.

Share this post and invite your followers as well.
Before I'm going to share my good thing with you this week, I would like to invite you to just for a short moment do a little chicken dance with me. Just dance and forget that sometimes you might feel like a headless chicken in all that's going on…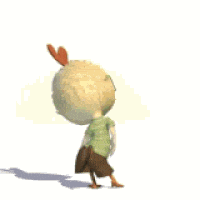 So here is what I'd like to share with you today:
"As I've said it's been one of those days… I could make something up now but that wouldn't be right. So first the car breaks down. Then I realize that I have either misplaced my driver's license or just simply lost it. Some other little things went a bit pear shape today and my lovely cat has one of his super crazy crazy days which doesn't help.

BUT (there is always a but, just make it a good one…)

After a long "shopping around" we found someone who actually had the time to fix the car today and doesn't charge a fortune. Now I think that is actually a good thing!

I'm about to pick it up and hopefully my driver's license will be in the car, fingers crossed…"