Oh my, Monday has passed and I actually forgot to publish this post! It was sitting there happy and ready in my drafts and I did not press publish… Oh my. Anyway, here it is, thankfully it's still Monday somewhere on this planet 😉
I'm full of joy today. Tired but full of joy. Yesterday was the day of the year again for my daughter. It's up there with Christmas and sometimes I'm not sure which one comes first. It was the day her dance school had the big recital. Besides the great music they pick the performances of all the kids between 7 and 15 were amazing. But more to it later. First, let's make sure we kick off this week on a good and positive note.
It's easy:
Mention something that you consider being good in the comments
Or write a post about it on your blog (please don't forget the pingback if you do so I don't miss out and also share the link to it in the comments below). Something good that happened to you recently, or something good you will experience in a little while, or something good you know will happen soon. Something that makes you feel good.

Share this post and invite your followers as well.
So before I share why I'm so excited for the coming week let's do another happy dance. As you know I love my happy dances and so I decided to just keep doing it 😉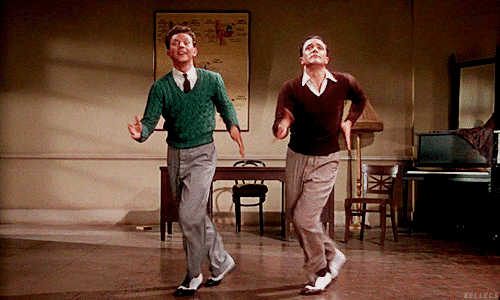 And when you are done dancing here is what I'd like to share with you today:
"As I've mentioned before, the girls (and some boys) had their annual dance recital yesterday. It was amazing to see the grace, the energy, the beauty, elegance and fun of all the kids. I'm always impressed to see the dedication the kids put into this event and then of course the result. It's beautiful to see how proud they are afterwards. They were all tired and proud. I love to see how they work hard for such a long time, practice over and over and then they have that one shot. One shot to put up a perfect performance. No do over. So many people watching, such a big stage. While I often think dancing is just dancing, I reconsider when I sit in the crowd and watch all the kids up there. It's not just dancing. It's about so much more. It's about doing something you love. About performing. About knowing you have to perform well. About knowing there is just that one chance. And pressure. And they all do it. They stand up there proud. They dance their hearts out because it's what they love. And when they are done they stand up there proud and soak up the applause for the short amount of time they have before making room for the next group…"