Wow! I can't believe I actually left out 3 of Cee's Share Your World Challenges! Well I guess I will have to answer all her questions at once then. I'm in and out of my blog at the moment. The reason is quite simple. We are currently traveling and making heaps of memories. I'm talking about the kind of trip where you spend all day walking around doing some sight seeing, learning about the place you are visiting and taking it all in. So by the time we get back to our home away from home I honestly didn't have the energy anymore to sit down and write.
Today though I have a moment and I'm trying to catch up. It's early-ish in the morning, suitcases are packed as we will move on from here later today. The weather is just gorgeous and my view from my current "office" is just so wonderful. Traveling inspires. It feeds the soul. All those new places, the new people, maybe even a new culture are inspiring. But enough now. Time to answer Cee's questions.
Week after week Cee comes up with thought provoking questions for her Share Your World Challenge. Sometimes I wonder if there will be anymore questions unanswered but obviously there are. If you have not checked out her Q&A yet, I highly recommend it. And now, let's get the questions answered 😉
< strong>Where do you eat breakfast? Do you mean where as in a place or where in my home? I can give you a long answer here as the circumstances allow it at the moment. Currently I eat breakfast in restaurants as we are on the road. Something I truly enjoy as it is nice to have some options you do not just get at home (as it would be simply too much work) and also to be served. Just being able to sit there and enjoy rather than running around. So at this point I enjoy my breakfast in a restaurant, sitting on a table with everyone there doing the same, having great conversations about what we've experienced so far and what we are about to see next.
While at home I usually eat my breakfast sitting at our kitchen bench, rarely sitting at the table. Usually the kids eat together and then I will help myself ones they are all done and dusted.
Given the choice of anyone in the world, whom would you want have a evening with? I take it it's a given to have my family around. So today I would love to have the opportunity to spend an evening with Obama. Just to pick his brain about so many things. Listen to him talk and figure out if he is truly as great as I think he is.
If you could be a tree or plant, what would you be? I'd be a tree. I love trees. They are so amazing and massive and stand there for so long. I'd love to see what they see (maybe not?) and shelter others that need it. They seem so majestic. And I admit I do hug trees every so often. Because it gives me a good feeling…
Would you rather take a 2 week vacation with an organized tour or take a cruise of your choice? Frankly not too fond of both of them. I love traveling by myself, or better with the family. And this here is a tricky question. I'm tempted to say a 2 week tour but then I'm constantly with the people who are doing the tour too. While if I'm on a cruise I can somehow be by myself. And I don't have to do what everyone else does. There is an up and down to both of them in my books. Needless to say that I've never done any of it… So maybe I'd be positively surprised…
Did you like swinging as a child? Do you still get excited when you see a swing? I hop on a swing every time I take the kids to the park. I love the swing. It brings out the little girl in me over and over again… and it always puts a smile on my face.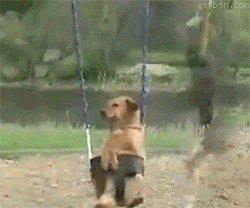 < strong>What is the most important thing that you ever learned ? (I bet it's not something you learned in school) Who your real friends are and that if you are always kind and fair you will be treated that way too.
Do you ever sit on a park bench for more than ten minutes? Yes. And I even sit there without looking at my phone 😉 I think we need moments like this. Just sitting there and watching what is going on around you. Enjoying the surroundings, taking it all in.
< strong>When you lose electricity in a storm, do you light the candles, turn on the flashlight or use your cell phone for light? Light candles! Although it rarely happens where we live but I would light candles right away. And there are always candles in my house while I'm not sure if the flashlight would actually work…
< strong>Would you rather be given $10,000 for your own use or $100,000 to give anonymously to strangers? Tricky… As a mom I often think I should think of the family first, so take the money and put it into the college fund for the kids. But then others might need it now and much more so you could go a long way and help people massively…
What inspired you or what did you appreciate this past week?   As I've mentioned before we are currently traveling in a country I've never been to and everyone is loving it. Every day is inspiring. Seeing all the new things, experiencing it all together, doing something together… nothing can beat that and I'm so glad we have a little bit longer to go still…
https://amommasview.files.wordpress.com/2017/11/img_3031-1.mov