It's one of those Mondays when a lot of people need something positive in their life. I'm thinking of everyone affected by the Californian fires. It breaks my heart to see what is going on and I wish there would be something we could do from here besides sending positive thoughts. Personally I find myself at the beginning of what is shaping up to be an incredibly busy week. So much going on but that's good and I'm really looking forward to all of it.
So let's start this week on a positive.
It's easy:
• Mention something that you consider being good in the comments
• Or write a post about it on your blog (please don't forget the pingback if you do so I don't miss out and also share the link to it in the comments below). Something good that happened to you recently, or something good you will experience in a little while, or something good you know will happen soon. Something that makes you feel good.
• Share this post and invite your followers as well.
You know it by now! We are not moving any further without a little happy dance. It really doesn't matter which style of dancing you like. Just do it. Just dance! Maybe you dance with a friend, just like Garfield and Otis… or just by yourself. In any case: Have some fun!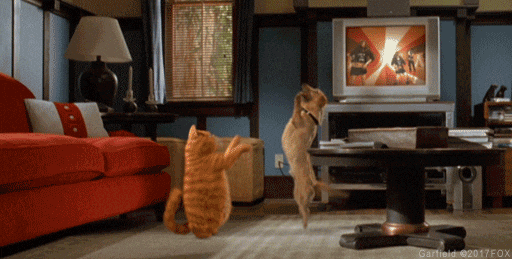 And once you are done, here is what I'd like to share with you all:
"So here I was, thinking of what to share and thinking that I can't mention again how much I loved my walk along the beach. And then my phone rang and it was one of my lovely friends. We chatted about this and that and about the friends we lost this year. And it hit me. It's about the little things. The fact that I was able to go and walk on the beach, to put my feet into the water and watch the seagulls. It's about the risotto I cooked and that got demolished in no time by my family. It's about the board game we played and the fun we had while doing so. It's about the hail we had the other day, watching it bounce of the outdoor table. It's about the hugs and cuddles. It's about being alive and loved. That's the good thing this week, every week…"