Monday is the beginning of a beautiful week. To be honest though, every day is the beginning of something new, of something beautiful. We just have to see it. The last couple of days were interesting. Busy and good on one hand side. Challenging on the other. I will get to this later in another post. This one is all about good things. I find it incredibly important to keep the good things in mind and to focus on them. So let's do this. Let's focus on the good thing and hit this week off on a positive note.
It's easy:
Mention something that you consider being good in the comments
Or write a post about it on your blog (please don't forget the pingback if you do so I don't miss out and also share the link to it in the comments below). Something good that happened to you recently, or something good you will experience in a little while, or something good you know will happen soon. Something that makes you feel good.

Share this post and invite your followers as well.
Before I share my good thing, I'd like to do a little happy dance. Yes, again. But I love my little happy dances. They make me feel good. So let's do it…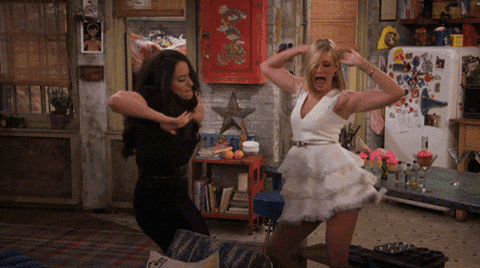 Shall we do another round? Of course… let's keep doing it. You can keep going on and on… and when you feel like you are done, then here we go, here is what I'd like to share with you today:
"Today I'm just so happy that we all are happy and healthy and content with our lives. Doesn't seem like a huge and catching thing, but it's just so important. It's so important. Because it's not a given. We always take it as a given but it's not. So many things we take for granted are not. Our healthy and happy kids, the love we feel for our partners, our family. The friends we have, that are there for us and support us. Happiness. It's not a given. Today I'm extremely thankful for having all of this in my life. Health, happiness, love, friendships, trust and happiness…"