Happy Monday to you. We are way on the way towards summer and spring has definitely sprung down here in Australia. I tell you: I'm so ready for warm and sunny weather. Apparently this week will serve us more or less everything. From nice spring weather (like just now) to really chilly and almost winter-y weather later on. But that's Melbourne. Always a trick up its sleeve.
So let's start this week on a positive.
It's easy:
• Mention something that you consider being good in the comments
• Or write a post about it on your blog (please don't forget the pingback if you do so I don't miss out and also share the link to it in the comments below). Something good that happened to you recently, or something good you will experience in a little while, or something good you know will happen soon. Something that makes you feel good.
• Share this post and invite your followers as well.
You know it by now! We are not moving any further without a little happy dance. It really doesn't matter which style of dancing you like. Just do it. Just dance! Enjoy yourself 🙂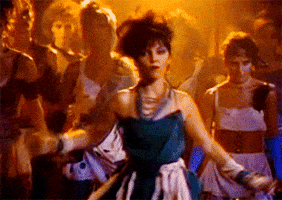 Shake it! Have some fun. And when you think you are done, why not adding one more round of shimmy to the day?
Are you sure you are done? Well then here is what I'd like to share with you today:
"My daughter's passion and commitment for the things she does are amazing. I love watching her play soccer or dance. Or doing her martial art. What she takes on she does properly, always putting her best effort forward. Yesterday they she had her annual dance show. Something they work towards to for months. It's the highlight of the year and as one girl said 'once it's here it's over in now time'. It was amazing to watch them all dance. Most of all of course my daughter. Every year everyone is looking forward to the costume reveal and most of the time you are blown away by the beautiful creations. Sometimes though you pick the short straw and end up with a costume that is not really that nice. It happens. And this year one of hers was probably the worst of all of them (as most parents agreed). She hated it. She was disappointed. She wondered how someone can possibly choose something like this. Yet she was up there, on stage, rocking that costume, giving her all, smiling and performing. And she looked stunning.

Sometimes we get handed a short straw. We can go into hiding and give into the frustration or we can do what my girl did, put a smile on our face, accept that we can't change it and just run with it (or in her case dance). Needless to say, that I'm a super proud mom (as always)…"