Hello my lovely blogging friend. It's still Monday somewhere in this world and the week is still young anyway. So let's not waste too much time and kick this week off on a positive thought 🙂
It's easy:
• Mention something that you consider being good in the comments
• Or write a post about it on your blog (please don't forget the pingback if you do so I don't miss out and also share the link to it in the comments below). Something good that happened to you recently, or something good you will experience in a little while, or something good you know will happen soon. Something that makes you feel good.
• Share this post and invite your followers as well.
You know it by now! We are not moving any further without a little happy dance. It really doesn't matter which style of dancing you like. Just do it. Just dance! Maybe you dance with a group of friends… even if they are different than you, or just by yourself. In any case: Have some fun! There apparently is a study proving that you immediately feel better if you start jumping and wiggling around. So that has to be the same thing with dancing, right?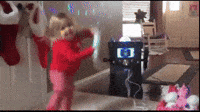 So wiggle and jump, shake and shimmy and when you are done here is what I'd like to share with you today. And it's totally different than my usual shares. Because it comes in the form of a music video. Just because this song makes me feel so so SO good 🙂